GIVE WITH A PURPOSE
With hundreds of high-quality products to choose from
The below are proven to be the most used tools in the kitchen
giving you a daily touch, forever.
Oh - and your name is going to look sharp engraved!
All prices include laser engraving
And each gift comes with a bow

Let's Get Started
Get A System In Place

Every Cutco knife is laser engraved. This means your engraving will never wear way. You're welcome to engrave any way you want. Our discounted engraving is only $11.00 a piece for unlimited characters. Just a wee bit better than the average $3/per character, right?! Engrave the front, back, big and bold or small and discreet – we are here to help!

Gifts come in small or large quantities, depending on your needs. Our current minimum is 5 units. We ship all your gifts up front and bill you over 5 months or 10 months interest-free. You can't beat that system.

Not Sure About The Engraving?
Don't worry you can engrave as small, simple and discreet as you'd like.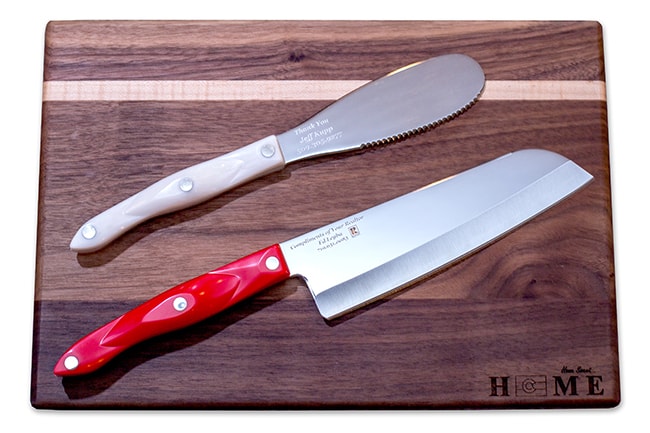 Are we missing a CUTCO item that you think should be here?
Don't worry we offer that too… We've just done the hard part for you by preparing the creme de la creme so to speak. We have market tested over 100 different products and hand selected our best branding tools to showcase for you. Our gifts provide you the best bang for your buck regardless of what kind of client you are working with, how old they are, or what they are or aren't into today or even 10 years later.
What Would You Like To Do Next?